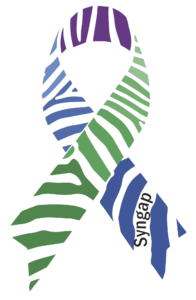 The Syngap ribbon has been developed by Syngap Global Network members and was designed by a syngap family member in 2017. Virginie McNamar's sister provided it to the syngap community for free use by everyone.
Why zebra pattern?
The zebra stands for rare disease. This is based on the citation "When you hear hoofbeats, think of horses, not zebras," Dr. Theodore Woodward tells his medical students. "When you see symptoms, you should look for the expected cause first, rather than the exotic." But sometimes it really is a zebra. The rare disease community world wide uses the Zebra as a symbole.
What do the colors stand for?
Many common diseases do have their own awareness colors. These are used for logos, ribbons, websites and awareness days.
Green

– stands for neurologic diseases. The neurological issues caused by SYNGAP1 mutations are influencing our syngap kids every day
Purple

– is the official color for epilepsy. Purple Day is known all over the world. Most Syngap kids suffer from epileptic seizures. These are hard to treat and turn learning and memorizing into huge challenges for our kids.
Blue

– stands for Autism. Many of syngap kids receive a diagnosis on the autism spectrum.

 

 
The ribbon is free for all to use. You can share it, print it, publish it. Be creative!